New shows in Leipzig, Hannover & Aarburg

Invisible Live Video
Enjoy!

Who cares, it's LIVE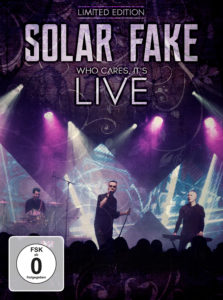 Our first live album will be released on June 26, 2020 ! 2CD+DVD limited edition digipak, only 1,000 copies. Better pre-order now : www.outoflineshop.de
More infos
Podcast
Latest episode of the Solar Fake podcast :

Our latest videoclip  "Anything you want" :

On Dec 14th 2018 the re-release of the first 3 Solar Fake albums "Broken Grid", "Frontiers" and "Reasons to kill" will be released under the name "One 2 Three" in a  classy 3-CD-Digipack. There are 2 bonus live tracks in each CD. The digital versions of the original CDs remain available.
Here you can find the  album on Amazon :   One 2 Three
Our new Lyric Video "The pain that kills you too"

YOU WIN. WHO CARES

Our brand new studio album!
Entered the German album top 100 on #20!
In stores now!
Find all information about the different versions here!
Here's  our lyric video for SICK OF YOU: