Our new studio album "ENJOY DYSTOPIA" will be in stores on Feb 12, 2021!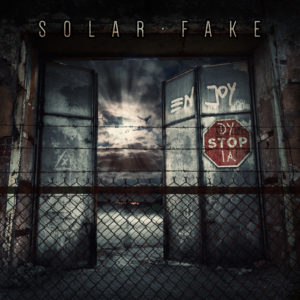 "Enjoy Dystopia" will be released in several formats: as a CD, a 2-CD Digipak, or limited 2-LP as well as strictly limited box including the digipak version, the exclusive bonus acoustic CD "Masked", phone ring holder, band photo, wallet, and silicone bracelet.
But that's not it: Three randomly picked boxes will include a "Golden Ticket". With this "Golden Ticket" the winner (plus one person) will experience a whole concert day with Solar Fake, from arriving till deconstruction, including catering and accommodation after the concert. A very special day with a very special band!
Pre-order now at Out Of Line Onlineshop
CD 1 (main album)
1. At Least We'll Forget
2. I Despise You
3. This Pretty Life
4. Arrive Somewhere
5. Es geht dich nichts an
6. It's Who You Are
7. Trying Too Hard
8. Implode
9. Just Leave It
10. Wish Myself Away
CD 2 (2-CD Digipak & limited fan box only)
1. Join Me In Death
2. Where Is My Mind
3. Es geht dich nichts an (Faelder Remix)
4. Implode (Blutengel Remix)
5. Arrive Somewhere (Solitary Experiments Remix)
6. This Pretty Life (Iris Remix)
7. I Despise You (Massive Ego Remix)
8. Trying Too Hard (Dunkelsucht Remix)
9. At Least We'll Forget (Backline Remix by Blood & Tears)
10. It's who you are (Random Starlight Remix)
11. I despise you (Vintage Remix by NAN)
12. At least we'll forget (Uplifting Emotional Mix by Anja & Alex)
13. It's who you are (Ost+Front Remix)
14. Just leave it (Lord of the Lost Version)
CD3 (limited fan box only)
"Masked"
1. I despise you (Piano Version)
2. This pretty life (Acoustic Version)
3. Arrive somewhere (Acoustic Version)
4. Implode (in wonderland)
5. Just leave it (Piano Version)
6. It's who you are (Acoustic Version)
7. Wish myself away (Acoustic Version)
2LP vinyl version (incl. mp3 download) :
Side A
A1 At least we'll forget
A2 I despise you
A3 This pretty life
A4 Arrive somewhere
Side B
B1 Es geht dich nichts an
B2 It's who you are
B3 Trying too hard
B4 Just leave it
Side C
C1 Implode
C2 Join me in death
C3 Where is my mind
C4 Wish myself away
Side D
D1 Es geht dich nichts an (Faelder Remix)
D2 Implode (Blutengel Remix)
D3 This pretty life (Iris Remix)
D4 Just leave it (Lord of the lost version)