Dear Tour diary,
the request for our participation in Winter Snow Festival, Moscow was very spontaneous. Just enough time to apply for a visa and receive it from the agency.
On Dec 2nd we left Berlin for Moscow, the concert was scheduled for the next day.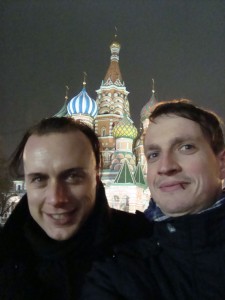 Our show was great. We've had so much fun and received so much enthusiasm from the Moscow audience… we couldn't believe it. We were really overwhelmed… an unforgettable experience!!! I received great gifts from fans, they are all placed in a special place at home.
Rabia Sorda played after us, I really loved their show… then it was time for Deine Lakaien, who played an extraordinary minimalistic electro set. Only 2 persons on stage, Alexander and Ernst, performing minimal electro likein the early days. Wow!
Full of such intensive and great experiences we were taken back to our hotel… The next day we already had to leave Moscow…
To draw a conclusion: We want more of that! We'd love to come back to Russia to play  more shows! We'd like to thank all our fans so very much!
Read the complete story in the next issue of Shadowplay Fanclub magazine…